Once Bitten Donuts of Massapequa Park
 has been delighting local residents with their delectable donuts since opening their doors for business in October 2020, and now they're using their wonderful wares to help to raise money for a great cause all throughout the month of June.
Located at 1000 Park Boulevard, Once Bitten Donuts is co-owned by Catherine Logozzo of Oceanside and her sister-in-law Claire, and during the month of June they're peddling a special kind of donut – Petey's "Nice as Anything" purple donut – as a means of raising funds for The Longest Day Alzheimer's Association in memory of their late father, Petey, who unfortunately passed away just last year of the disease.
Catherine noted that the purple donut fundraiser began last year shortly after her father's passing; a random phone call from The Longest Day Alzheimer's Association during June – which is Alzheimer's Awareness Month – seeking charitable donations gave her the inspiration to offer the Petey's "Nice as Anything" purple donut for sale throughout the month, with 100 percent of the proceeds going to The Longest Day.
"This is our second year. We started this last year when the Alzheimer's Association actually contacted me and it was perfect, because my father's birthday was in June and I didn't know anything about the organization until they contacted me," she said. "They were emailing multiple businesses just trying to get them to help with fundraising, and after I read the email I knew just what I had to do. So I called The Longest Day and set the fundraiser up with them."
Petey's "Nice as Anything" purple donut is a yeast-based donut which has been dipped in purple with teal and purple sprinkles, which are the colors for Alzheimer's awareness. The pleasant "Nice as Anything" phrase originates from Petey himself, which Catherine said was a phrase he often used when he was particularly fond of something edible.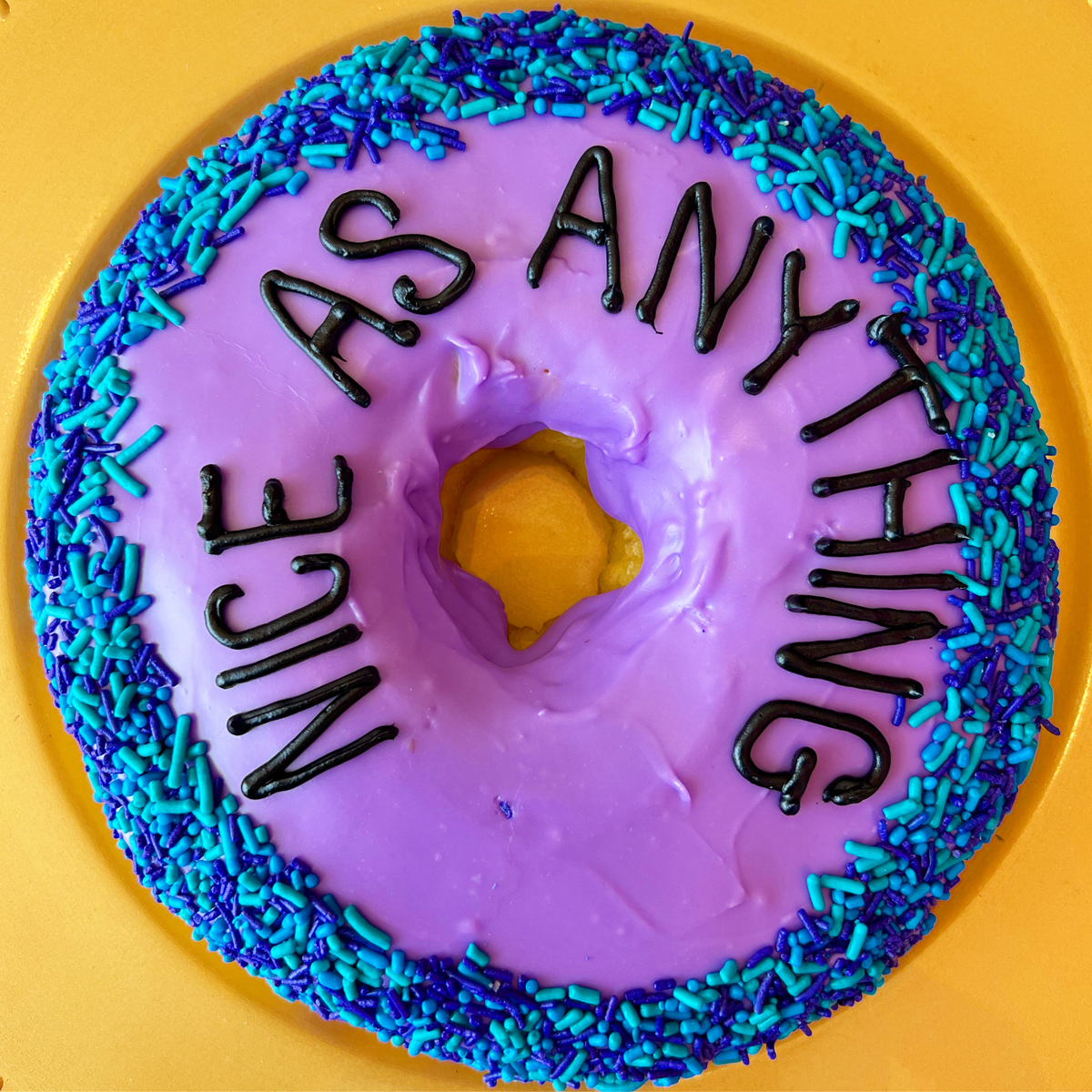 "'Nice as Anything' was his favorite saying when it came to food," she said. "He was a total foodie, and if he had something good in front of him he would always say, 'oh, that's as nice as anything.'"
Their fledgling fundraising efforts in 2021 were effective, but hampered somewhat by the ongoing COVID-19 pandemic; all said, $1,000 was raised. However, with the pandemic finally waning and business significantly picking up as a result, Catherine was happy to say that this year's fundraising effort is already well on track to generate significantly more money than last year.
As if donating to an important cause wasn't good enough, there's an extra incentive- with every purchase of a purple donut, customers also will receive a raffle ticket, and on her Petey's birthday – June 26th – a drawing will be held, and the lucky winner will be the recipient of a dozen free donuts.
Once Bitten Donuts' treats are cooked fresh each and every day, and they offer a variety of both cake and yeast-based donuts; this is done to try to satisfy everyone's palate, Catherine noted. Their number one seller is the Devil Made Me Do It donut, which is a chocolate cake donut with brownies, chocolate, and fudge. Another top-seller is their Sour Cream Old-Fashioned glazed donut. However, the shop also makes a variety of donuts with all sorts of crazy toppings – and many classic favorites as well – so the diverse tastes of just about anyone are catered to.
In addition to their typical selection of mouth-watering confectionery treats, Catherine also noted that Once Bitten Donuts is greatly expanding their ice cream selection, and are also offering their own homemade crumb cake. And with the coming of the summer season, business has seriously been picking up, especially when it comes to the store's catering efforts, Catherine said.
"We have a lot of parties, and we're doing a lot of custom orders," she said. "Donut platters and stuff like that…life is slowly but surely coming back to normal, and we're very happy about that."
Ultimately, despite the sad passing of her father, Catherine said it gives her a good feeling that she was able to turn such a tragic occurrence into a force for good, and she encourages everyone to come down to Once Bitten Donuts and sink their teeth into a Petey's "Nice as Anything" purple donut to help support a good cause.
"It's great," she said. "Again, it was perfect timing when we started this shortly after his passing, so it was a great way of honoring him, and now it's become this whole big thing."