Epitomizing the quintessential American success story, 
GYMGUYZ
 – the largest personal training service in the world, founded right here on Long Island – has evolved in a relatively short amount of time from being run out of the dining room of the owner's parents home to purchasing a new two-story global headquarters building in Melville, New York.
GYMGUYZ is a personal training service with the unusual twist that they – in the words of CEO and founder Josh York – bring the work out to you. In other words, one of their certified and knowledgeable personal trainers will actually take a van that is fully-stocked with all of the latest workout equipment to anywhere you want to train, and proceed to guide you through the best workout of your life.
"We can go anywhere…your home, office, a park, hospital, senior home, assisted living facility, anywhere you want, we bring the work out to you," York said. "We pride ourselves on our 'three C's,' which are the core aspects of our business…Convenient, Customized, and Creative workouts."
Currently, GYMGUYZ services over 700 cities in the U.S. alone, in addition to locations in Canada and the United Kingdom. All GYMGUYZ exercise programs are customized based on the individual needs of their clients, ensuring that they get the results they're looking for with each and every workout, York said.
"Based on their goals and what they're looking to accomplish, we customize the workout for each one of our clients," he said. "And in our vans we have enough equipment to provide you with a fantastic workout, 365 days a year. We have everything from sandbags, weights, resistance bands, cardio equipment, pool equipment, obstacle course training, sports training…you name it, we have it."
However, all the cutting-edge equipment in the world wouldn't mean a thing if it wasn't backed up by instructors with a  deep understanding and passion for putting their clients through the paces; in fact, York claims that GYMGUYZ offers the most amazing personal trainers in the entire world, a sentiment that is hard to argue with.
"All of our managers go through intense GYMGUYZ University training, and then are able pass on that training to our personal trainers," York said. "That training was obviously put in place for a reason…so the trainers follow our system and make sure that the workouts are customized for each client based upon their goals. At the end of the day it's great to make a living, but it's also really great to make a difference, we change lives every single day."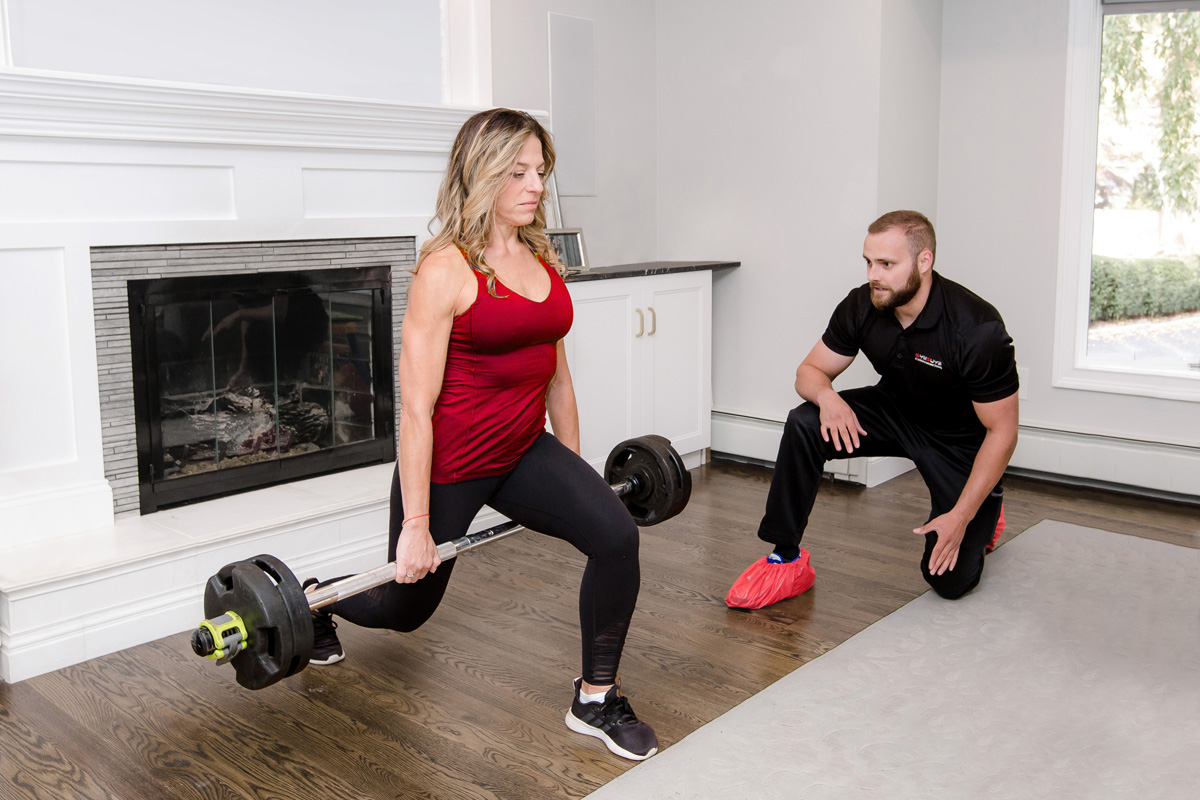 York, a Plainview resident, started GYMGUYZ in 2008, initially running the operation out of his parents' dining room. Having always been enamored with fitness, York had previously been working as a personal trainer but eventually left that career for a 9-to-5 job in corporate America; a move that he admitted made him absolutely miserable.
"About 85 percent of the people in the job market today are unhappy and not engaged…they hate their jobs, they're miserable, and that's pretty much where I was," he said. "I decided instead to follow my passion, and that's what I did. I went back into fitness and started training people again."
However, a chance encounter with one of his clients gave York the idea to put a unique spin on his personal training practice: actually bringing the workout to his clients, instead of the other way around.
"When I was working at a local gym, one of my clients came in late one day and said, 'Josh, I wish you would come to my house, but I have no equipment.' And that kind of stuck with me, and it's such a simple idea but no one's ever professionalized this service before. And I decided to do it," he said. "So I ended up getting a van, stocking it with everything I needed, and started marketing the business to get clients. That one van turned into two, then three, then four…and now we're an international company."
York quickly created an empire, going from a solo act to his current army of hundreds of trainers in multiple countries; however, the outlook wasn't always so rosy for GYMGUYZ's success, as York said he encountered a lot of negative feedback when he initially told people about his business idea. However, being a driven and focused individual, York paid no heed to the naysayers and struck out on his own, and with hindsight being 20/20, it's easy to see now how right he was.
"From day one when I was running this company out of my parents' dining room, people were laughing at me and telling me I didn't know what I was doing," he said. "But in order to succeed you have to believe in yourself, you have to take risks, and you have to have a vision. If you have that vision and you have the mental ability to never, ever quit no matter what happens and you build a resilient mindset, success is just inevitable. It's going to happen."
As time went by, York moved the business out of his parents' house and into a rented office space; however, the purchase of their new global headquarters building in Melville represents a significant milestone, and paves the way for a bright future for GYMGUYZ's future endeavors.
GYMGUYZ's new, 18,000 square-foot headquarters is currently in the process of being renovated and readied for York and his team to move into, which is expected to take place during the first week of June 2022. But looking back upon his long, hard road towards success, York says that all of the effort and sacrifice has been more than worth it.
"I could work 24 hours a day…and sometimes I do! But you never work a day in your life when you follow your passion, but to be honest I don't spend too long celebrating wins. I win, then I move on to the next challenge and I keep moving," he said. "The minute you get comfortable, the minute you get into that comfort zone, that's when somebody else steps in and takes what you have. And I'll never let that happen, but I couldn't have done it without my great team at my side, who I love as much as my family. It's a great feeling."