In the month of December, Huntington's  will be hosting a selection of unique and exciting special events and screenings. Events include rock-docs, screenings of cult favorites, Christmas films, family friendly animation, stage-to-screen theater programs, documentaries, and beloved classic films.
Neil Young: Harvest Time

Thursday, December 1st at 7:00 PM and Sunday, December 4th at 2:45 PM
$17 Public | $12 Members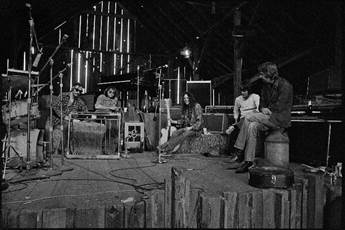 Created between January and September 1971, this docu-film takes us on an intimate journey to Neil Young's farm in Northern California for the "Harvest Barn" sessions, to London for an iconic performance with the London Symphony Orchestra and to Nashville where the then 20-something Neil Young worked on various tracks of this signature album. The feature is a fan piece that has never been seen before. Performance and rehearsal content are intertwined into creative storytelling and includes most of the tracks from album Harvest (released in 1972) including "Heart of Gold", "A Man Needs A Maid", "Alabama" and "Old Man." In addition to the film, this screening event includes a pre-recorded introduction by Neil Young, exclusive for movie theatre audiences. Hear Neil highlight the significance of Harvest, 50 years after its release, and how the recording of the album and the movie came together. (US, 2022, 125min., English, NR | Dir. Bernard Shakey)
Tickets
A Christmas Carol: A Ghost Story
Thursday, December 1st at 7:30 PM and Sunday, December 4th at 12 PM
$17 Public | $12 Members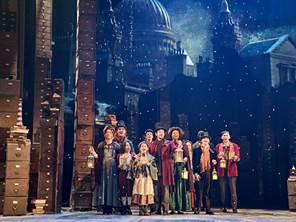 Olivier award-winner Mark Gatiss (Sherlock, The League of Gentlemen, Doctor Who) stars as Jacob Marley in his own retelling of Dickens' classic winter ghost story. It's a cold Christmas Eve and mean-spirited miser Ebenezer Scrooge has an unexpected visit from the spirit of his former business partner Jacob Marley. Bound in chains as punishment for a lifetime of greed, the unearthly figure explains it isn't too late for Scrooge to change his miserly ways in order to escape the same fate, but first he'll have to face three more eerie encounters. (2022, 125min., PG-13 | Dir. Adam Penford)
Tickets
Cult Cafe
Singles – 30th Anniversary Screening
Saturday, December 3rd at 10:00 PM
$7 Public | $5 Members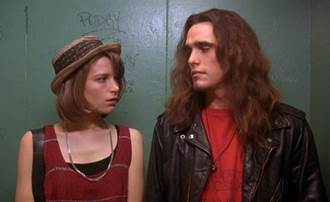 Singles centers on the precarious romantic lives of a group of young Gen X'ers in Seattle, Washington at the height of the 1990s grunge phenomenon. Most of the characters dwell in an apartment block, a sign in front of which advertises "Singles" (single bedroom apartments) for rent. Divided into chapters, the film focuses on the course of two couples' rocky romances, as well as the love lives of their friends and associates. Starring: Bridget Fonda, Campbell Scott, Kyra Sedgwick, Sheila Kelley, Jim True, Bill Pullman & Matt Dillon. (US, 1992, 99min., English, PG-13 | Dir. Cameron Crowe)
Tickets
Live Theatrical Event
Gerald Dickens in A Christmas Carol
Monday, December 5th at 7:00 PM
Copies of Gerald Dickens new book Dickens and Staplehurst: A Biography of a Rail Crash will be available
Performance & Book: Public $45 | Members $40
Performance Only: Public $30 | Members $25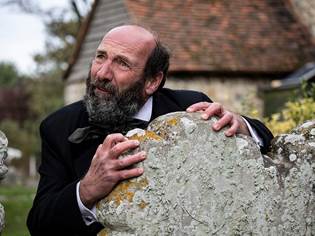 Gerald Charles Dickens' breathtaking one-man performance of his great-great grandfather's epic Christmas tale is a theatrical tour de force. Gerald Dickens delivers an extraordinary performance in his one-man play of the classic Christmas story, depicting all of the individual characters with clarity and a mesmerizing energy. He is able to communicate the fear and angst of Scrooge, while offering us a poignant glimpse into the Cratchit family's life. And, of course, Gerald infuses bits of laughter throughout the play. A perfect holiday celebration for us all. (approx. 75min.)
Tickets
Peter Bogdanovich's Lost Film: Squirrels to the Nuts
Wednesday, December 7th at 7:30 PM
With post-film discussion with CUNY English Lecturer, Film Scholar, and Film Rescuer James Kenney
Pay what you want, Suggested donation: $15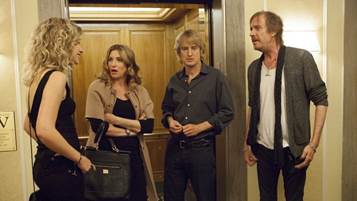 Heavily cut, substantially reshot, and burdened with a painfully explicit voice-over narration, Peter Bogdanovich's final theatrical feature was released in 2014 under the title She's Funny That Way and quickly disappeared from view. Miraculously, Bogdanovich's full original cut, running 123 minutes and titled Squirrels to the Nuts in homage to Ernst Lubitsch's Cluny Brown, was saved from oblivion by James Kenney, a CUNY English instructor, who discovered a high-definition video master of the Bogdanovich edit on eBay. In its full, free-floating form, Squirrels recovers Bogdanovich's elegance, airiness, and ability to smoothly manage a large cast of characters. This ensemble romantic farce centers around a Brooklyn sex worker and aspiring actress, Isabella (Imogen Poots), and how she unwittingly affects the interconnected relationships between a Broadway director (Owen Wilson), his leading lady wife (Kathryn Hahn), her suave co-star (Rhys Ifans), an obsessive judge (Austin Pendleton), and a thoroughly unprofessional therapist (Jennifer Aniston), among many others. At heart the film is a McCareyesque comedy of remarriage, with the stage director (Wilson) fighting through serial infidelities to make it back to his patient wife (Hahn), who herself is being pursued by the scruffy Brit film star (Ifans). However, the peripheral characters—particularly Pendleton's lovesick judge and Aniston as the world's most indiscreet therapist—add some wonderful, darker notes to Bogdanovich's rich comic tapestry. (USA, 2013/2022, 123 min., DCP)
Tickets
Northshore Original Open Mic
December 7, 14, 28
At 7 PM, 6:30PM for performer sign-up
Free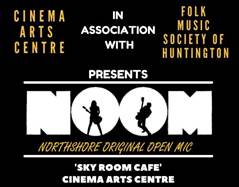 National Theatre Live
William Shakespeare's Much Ado About Nothing
Thursday, December 8th at 7:00 PM
$25 Public | $20 Members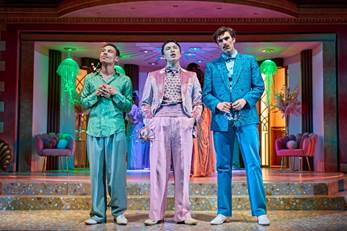 Katherine Parkinson (The IT Crowd) and John Heffernan (Dracula) lead the cast in Shakespeare's romcom of sun, sea and mistaken identity. The legendary family-run Hotel Messina on the Italian Riviera has been visited by artists, celebrities and royalty. But when the owner's daughter weds a dashing young soldier, not all guests are in the mood for love. A string of scandalous deceptions soon surrounds not only the young couple, but also the adamantly single Beatrice and Benedick. Following the award-winning success of National Theatre Live's Romeo & Juliet, Twelfth Night and Antony and Cleopatra, director Simon Godwin returns with this irresistible comedy, captured live from the National Theatre stage.
Tickets
Cult Cafe
Starship Troopers – 25th Anniversary Screening
Saturday, December 10th at 10:00 PM
$7 Public | $5 Members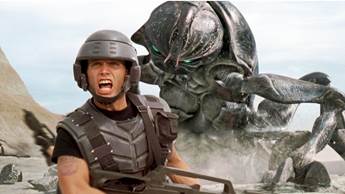 Directed by Paul Verhoeven and written by Edward Neumeier, based on the 1959 novel of the same name by Robert A. Heinlein. Set in the 23rd century, Starship Troopers follows the exploits of teenager, Johnny Rico (Casper Van Dien), and his friends while serving in the military under the Earth world government, the United Citizen Federation. Humanity's exploration and colonization of outer space brings them into conflict with an alien species, known as Arachnids, leading to an interstellar war. Also Starring: Dina Meyer, Denise Richards, Jake Busey, Neil Patrick Harris, Patrick Muldoon, and Michael Ironside. (USA, 1997, 129 mins., R, Dir. Paul Verhoeven)
Tickets
Sunday Schmooze
Krzysztof Kieslowski's Three Colors: Red
Sunday, December 11th
Bagels at 10 AM | Film at 11 AM
$17 Public | $12 Members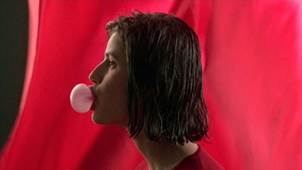 Krzysztof Kieslowski closes his Three Colors trilogy in grand fashion, with an incandescent meditation on fate and chance, starring Irène Jacob as a sweet-souled yet somber runway model in Geneva whose life dramatically intersects with that of a bitter retired judge. Meanwhile, just down the street, a seemingly unrelated story of jealousy and betrayal unfolds. Red is an intimate look at forged connections and a splendid final statement from a remarkable filmmaker at the height of his powers. (Switzerland/France, 1994, 99min., In French with English subtitles, R | Dir. Krzysztof Kieslowski)
Cinema for Kids
Paddington
Sunday, December 11th at 12:00 PM
$12 Public | $7 Members | $5 Kids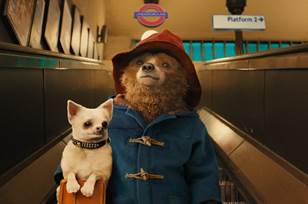 After a deadly earthquake destroys his home in a Peruvian rainforest, a young bear (Ben Whishaw) makes his way to England in search of a new home. The bear, dubbed "Paddington" for the London train station, finds shelter with the family of Henry (Hugh Bonneville) and Mary Brown (Sally Hawkins). Although Paddington's amazement at urban living soon endears him to the Browns, someone else has her eye on him: Taxidermist Millicent Clyde (Nicole Kidman) has designs on the rare bear and his hide. (UK/US, 2014, 95min., English, PG | Dir. Paul King)
Tickets
Movie Trivia Night
Monday, December 12th at 8:00 PM
$10 Public | $7 Members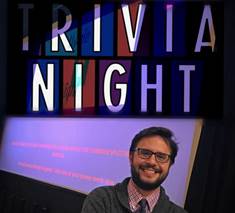 50 questions based all around film, actors and actresses, awards, and everything else associated with the world of film. Challenge like-minded film fans in a battle of wits for cash and other prizes. You can form teams, so bring some friends and work together. Feel free to come alone and play solo as well!
1st Prize – $100 cash to the winning team!
2nd Prize – Up to 4 CAC gift cards! (a value of $24 each)
Tickets
Best of the Big Screen!
White Christmas
New digital restoration!
Tuesday, December 13th at 7 PM
$15 Public | $10 Members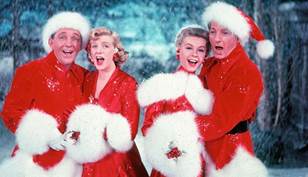 Join us for a big screening showing of one of the most beloved holiday movies of all time! Bob (Bing Crosby) and Phil (Danny Kaye) meet during the Second World War, where the latter persuades the former, a Broadway performer, that they should become an entertainment duo. Following the War, the two become a huge hit, eventually becoming musical producers. When the pair audition sisters Betty (Rosemary Clooney) and Judy (Vera-Ellen), they are smitten, though Bob needs some persuading before he will let Betty know how he feels. When the foursome ends up at a Vermont inn owned by the men's former commanding officer, now fallen on hard times, Bob puts out a call on national television for their former division to come to the inn on Christmas Eve. With a treasury of songs by Irving Berlin, including, of course, White Christmas (first heard in 1942's Holiday Inn), enjoying this on the big screen is a must for any fan of musicals. (USA, 1954, 120 min., Color, DCP / Director: Michael Curtiz)
Tickets
Riotsville, U.S.A.
Wednesday, December 14th at 7:30 PM
$15 Public | $10 Members
With director Sierra Pettengill in person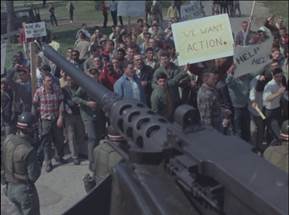 Welcome to Riotsville, USA – a point in American history when the nation's rulers – politicians, bureaucrats, police – were faced with the mounting militancy of the late-1960s, and did everything possible to win the war in the streets. Using training footage of Army-built model towns called "Riotsvilles" where military and police were trained to respond to civil disorder, in addition to nationally broadcast news media, director Sierra Pettengill connects the stagecraft of "law and order" to the real violence of state practice. Recovering an obscured history whose effects have shaped the present in ways both insidious and explosive, RIOTSVILLE, USA is a poetic and furious reflection on the rebellions of the 1960s – and the machine that worked to destroy them. (USA, 2022, 91 min., color, DCP | Dir. Sierra Pettengill)
Tickets
Brainwashed: Sex-Camera-Power
Thursday, December 15th at 7:30 PM
$15 Public | $10 Members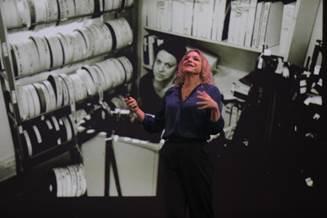 "If the camera is predatory, then the culture is predatory." In this eye-opening documentary, celebrated independent filmmaker Nina Menkes explores the sexual politics of cinematic shot design. Using clips from hundreds of movies we all know and love – from Metropolis to Vertigo to Phantom Thread – Menkes convincingly makes the argument that shot design is gendered. Brainwashed: Sex-Camera-Power illuminates the patriarchal narrative codes that hide within supposedly "classic" set-ups and camera angles, and demonstrates how women are frequently displayed as objects for the use, support, and pleasure of male subjects. Building on the essential work of Laura Mulvey and other feminist writers, Menkes shows how these not-so-subtle embedded messages affect and intersect with the twin epidemics of sexual abuse and assault, as well as employment discrimination against women, especially in the film industry. The film features interviews with an all-star cast of women and non-binary industry professionals including Julie Dash, Penelope Spheeris, Charlyne Yi, Joey Soloway, Catherine Hardwicke, Eliza Hittman, Maria Giese, and Rosanna Arquette. The result is an electrifying call-to-action that will fundamentally change the way you see, and watch, movies. (USA, 2022, 107 min., color, DCP / Director: Nina Menkes)
Tickets
New Restoration!
Silent Night, Deadly Night
Friday, December 16th at 9:30 PM
$15 Public | $10 Members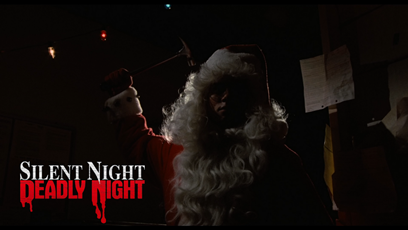 Santa Claus is coming to town . . . and this time he's got an axe! Community leaders tried to stop it. The P.T.A. fought to ban it. Now, one of the most controversial slasher films of all time is back in a new restoration from the original camera negative. SILENT NIGHT, DEADLY NIGHT is the demented story of little Billy Chapman, traumatized by his parents' Christmas Eve murder and then brutalized by sadistic nuns in an orphanage. When Billy grows up and dresses as Santa, he goes on a yuletide rampage to punish the naughty with extreme prejudice. Robert Brian Wilson and Linnea Quigley (NIGHT OF THE DEMONS) star in this harrowing horror classic that continues to ruffle the feathers of angry parents and stuffy critics over thirty years later. (USA, 1984, 84 min., color, DCP | Charles E. Sellier, Jr.)
Tickets
Cult Cafe
1991: The Year Punk Broke – 30th Anniversary Screening
Saturday, December 17th at 10:00 PM
$7 Public | $5 Members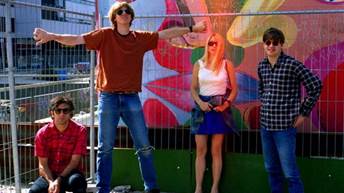 1991: The Year Punk Broke, released theatrically in 1992, is a documentary directed by Dave Markey, featuring American alternative rock band Sonic Youth on tour in Europe in 1991. While Sonic Youth is the focus of the documentary, the film also gives attention to Nirvana, Dinosaur Jr., Babes in Toyland, Gumball and The Ramones. (USA, 1992, 95 mins, NR, Dir. Dave Markey)
Cinema for Kids
Coraline
Sunday, December 18th at 12:00 PM
$12 Public | $7 Members | $5 Kids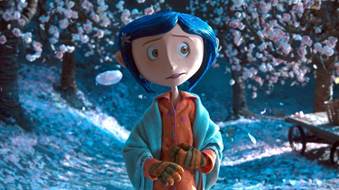 From Henry Selick (The Nightmare Before Christmas – playing here on December 25, James and the Giant Peach) and based on the novella of the same name by legendary author Neil Gaiman (Sandman), Coraline is a wondrous, thrilling, fun and suspenseful adventure. A young girl walks through a secret door in her new home and discovers an alternate version of her life. On the surface, this parallel reality is eerily similar to her real life – only much better. But when this wondrously off-kilter, fantastical adventure turns dangerous and her counterfeit parents try to keep her forever, Coraline must count on her resourcefulness, determination, and bravery to save her family and get back home. The voice cast includes Dakota Fanning, Teri Hatcher, Ian McShane, Jennifer Saunders and Dawn French. Written for the screen and directed by Henry Selick.  (US, 2009, 100min., English, color, PG, DCP | Dir. Henry Selick)
Tickets
Best of the Big Screen
Meet Me in St. Louis (100 years of Judy Garland Celebration)
Tuesday, December 20th at 7 PM
$15 Public | $10 Members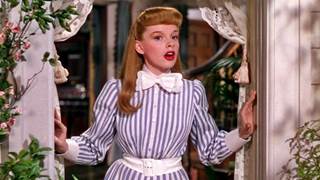 Join us for a very special big screen celebration of the 100th anniversary of the birth of legendary star Judy Garland, featuring a screening of one of her most beloved movies! In the world of classic Hollywood, few studio runs are as legendary as the string of musicals (including On the Town, The Band Wagon, Singin' in the Rain) former Tin Pan Alley songwriter Arthur Freed produced at M-G-M. It was Freed who was responsible for casting Judy Garland in The Wizard of Oz and bringing director Vincente Minnelli to Hollywood and it was Freed who paired the two future spouses in one of our favorite movies, an unlikely musical adaptation of Sally Benson's naturalistic short story collection Meet Me in St. Louis. Beginning in the summer of 1903 and ending in the following spring, Meet Me in St. Louis chronicles a very busy year in the lives of the Smith family amidst the excitement leading up to the 1904 World's Fair. Oldest daughter Rose (Lucille Bremer) waits in vain for a marriage proposal from her flakey beau, youngest daughter Tootie (Margaret O'Brien, delivering the best child screen performance ever!) runs afoul of the whole neighborhood, their sister Esther (Garland) awkwardly woos the boy next door while working overtime as her family's emotional rock, and Grandpa Joe does his best to be an anchor for her. A treasure trove of iconic musical numbers, unforgettable supporting performances, wistfully beautiful images, gently disquieting nostalgia, and all manner of other things sweet and bitter, Meet Me in St. Louis is one of the great movie masterpieces! (USA, 1944, 113 min., color, DCP / Director: Vincente Minnelli / Cast: Judy Garland, Margaret O'Brien, Mary Astor, Lucille Bremer, June Lockhart, Hugh Marlowe)
Tickets
Don't Open Till Christmas
Friday, December 23rd at 9:30 PM
$15 Public | $10 Members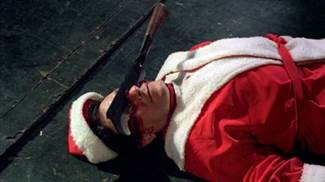 Whatever you do, Don't Open Till Christmas. An unsung 1980s holiday slayride from the makers of Pieces, this unhinged slasher follows a psychopath as they slaughter anyone who's unlucky enough to be dressed like Santa Claus during the holiday season. The twisted maniac dishes out stabbings, gunshots, a castration (!), and even burns the face of a poor Saint Nick while he's roasting chestnuts. A fascinating and endlessly entertaining sleazefest, Don't Open Till Christmas is infamous for its shocking gore scenes and gratuitous synth-jam performance from horror icon Caroline Munro (Dracula A.D. 1972, Maniac). Newly restored from the original 35mm camera negative! (UK, 1984, 87min., color, DCP | Dir. Edmund Purdom)
Tickets
Cult Cafe
Night of the Hunter
Saturday, December 24th at 10:00 PM
$7 Public | $5 Members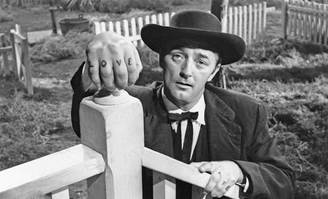 In West Virginia in the Great Depression, Reverend Harry Powell (Robert Mitchum) is a misogynistic serial killer and self-proclaimed preacher who travels along the Ohio River and justifies murdering widows he marries for their money as doing God's work. Also starring: Shelley Winters, Lillian Gish, Billy Chapin & Peter Graves (1955, 92 mins, Dir. Charles Laughton)
Cinema for Kids
The Nightmare Before Christmas
Sunday, December 25th at 12:00 PM
$12 Public | $7 Members | $5 Kids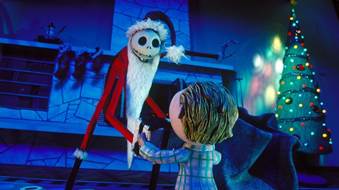 The Nightmare Before Christmas follows the misadventures of Jack Skellington, Halloweentown's beloved pumpkin king, who has become bored with the same annual routine of frightening people in the "real world." When Jack accidentally stumbles on Christmastown, all bright colors and warm spirits, he gets a new lease on life — he plots to bring Christmas under his control by kidnapping Santa Claus and taking over the role. But Jack soon discovers even the best-laid plans of mice and skeleton men can go seriously awry. With a fantastic story by Tim Burton, stunning stop-motion animation by Henry Selick (Coraline – playing here on December 18), unforgettable songs by Danny Elfman (who also plays Jack), and a wonderful cast that includes Catherine O'Hara, Chris Sarandon, and Paul Reubens, this has become a beloved classic for two holidays!  (US, 1993, 76min., English, color, PG, DCP | Dir. Henry Selick)
Tickets