When it comes to getting out of your comfort zone and experiencing the ultimate adrenaline rush, few things can compare to the amazing adventures offered at 
WildPlay Jones Beach
, an adventure park on the Jones Beach boardwalk that takes you out of your comfort zone to experience aerial thrills for humans of all ages 5+. And to entice you even further this summer, WildPlay is now offering an exciting new promotion for daredevils that can't get enough of the park's trademark zipline rides.
WildPlay Jones Beach initially opened for their current season in April and as of now is open until the first week of November, and according to Adam Karp – general manager of WildPlay Jones Beach – the park's popularity with the public has only increased this year when compared to their already-successful 2021 season.
"It's been great! We've had even more people come and visit WildPlay this year than ever before," he said. "We've been getting a lot of people who have been interested in who we are while walking down the boardwalk and coming to try us out, having a great time, and spreading the word."
Some of the exhilarating obstacles at WildPlay include walking across tightropes, climbing up cargo nets, flying through the air on rope swings, leaping onto swinging logs, balancing on wobbly bridges, and much, much more. WildPlay is located on the main boardwalk and is accessed by parking at field four, although it is easily accessible from fields five and six as well. Recommended age is five and up.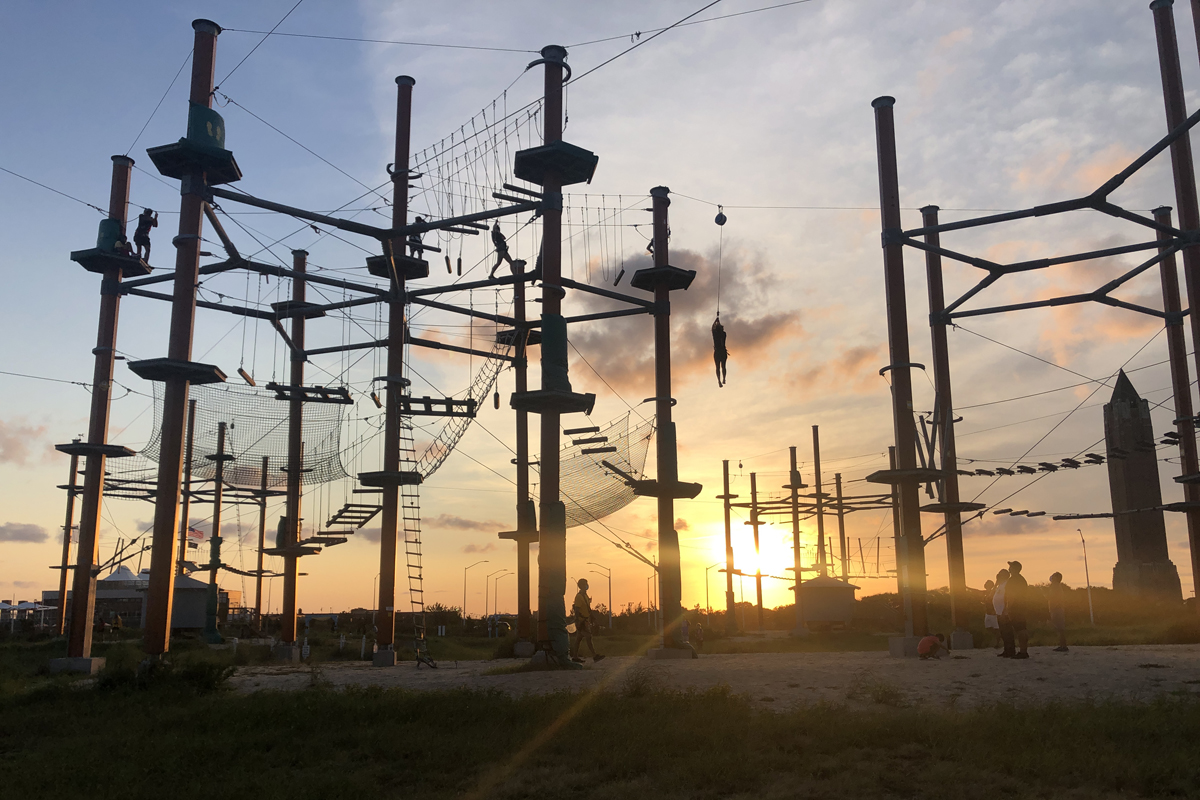 The Flight Pass: Unlimited Zipline Rides
Karp noted that, in an effort to provide more bang for his customers' buck, WildPlay Jones Beach is currently offers unlimited weekend zipline rides for the ultimate adrenaline junkies!
"We have a new promotion called the Flight Pass that runs until Labor Day, and it's really awesome," he said. "We have a stand-alone zipline, and usually you go and buy a ticket for a ride. But now on Fridays, Saturdays, and Sundays you can purchase a Flight Pass for unlimited zipline rides for the whole day. The Flight Pass costs $50, and considering that a single zipline ride costs $20, the Flight Pass is a really great bargain."
In addition to providing an all-day adrenaline rush, purchasers of the Flight Pass also receive a customized flight pin souvenir as well as a credit that they can use towards buying park merchandise.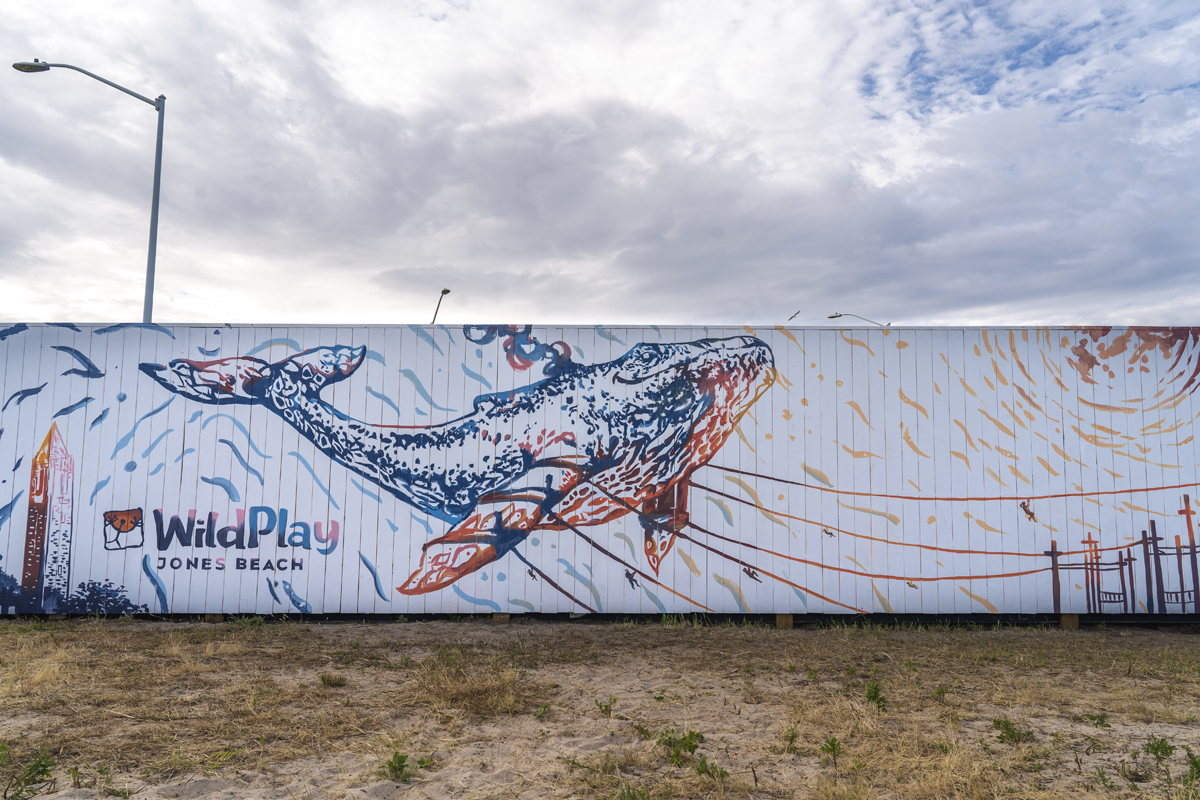 Bringing Art to Jones Beach
In an effort to further engage the community that they serve this year, Karp said that WildPlay has engaged the services of a local artist to paint a mural at the park that incorporates many aspects of Long Island life and culture.
"We decided to do a project throughout all of our parks that unites them all and encompasses the unique aspects of the areas that they're in," he said. "To that end, we commissioned a local artist, 
Justin Oon
, and he painted a mural on a 40-foot storage container on-site. We installed large paneling on the side to serve as his canvas, and Justin painted a 40-foot long by 8-foot high mural that depicts the attractions at WildPlay along with the local wildlife and the iconic sights and landmarks of Jones Beach."
"The focus of the mural is a giant whale jumping out of the ocean, and people ziplining from the whale into the park," Karp continued. "It's a really impressive piece and people really seem to enjoy it."
Free Field Trips to WildPlay
In order to make WildPlay more accessible to children on a budget, Karp also wants to spread the word of a currently-available New York State grant program called "
Connect Kids to Parks
" that allows for fully-funded field trips to state parks and attractions.
"Public schools and non-profits are eligible for this very easy to get grant, and they can actually get funding from the state to come to us…it's essentially a free field trip," he said.
Karp said that WildPlay may look intimidating at first glance, but for those with the nerve to try something different will find rewards in terms of not only breakneck fun, and even some serious confidence-building as well.
"We're here to help you test your comfort zone, and experience what you can do with different types of obstacles, ranging from giant zip lines to a 40-foot drop, among many other things," he said. "When we get someone to experience something that they never thought that they would ever be able to do, it's like nothing you've ever felt. It's really metaphoric for life and the things that are holding you back…don't limit yourself or tell yourself that there's something that you can't do."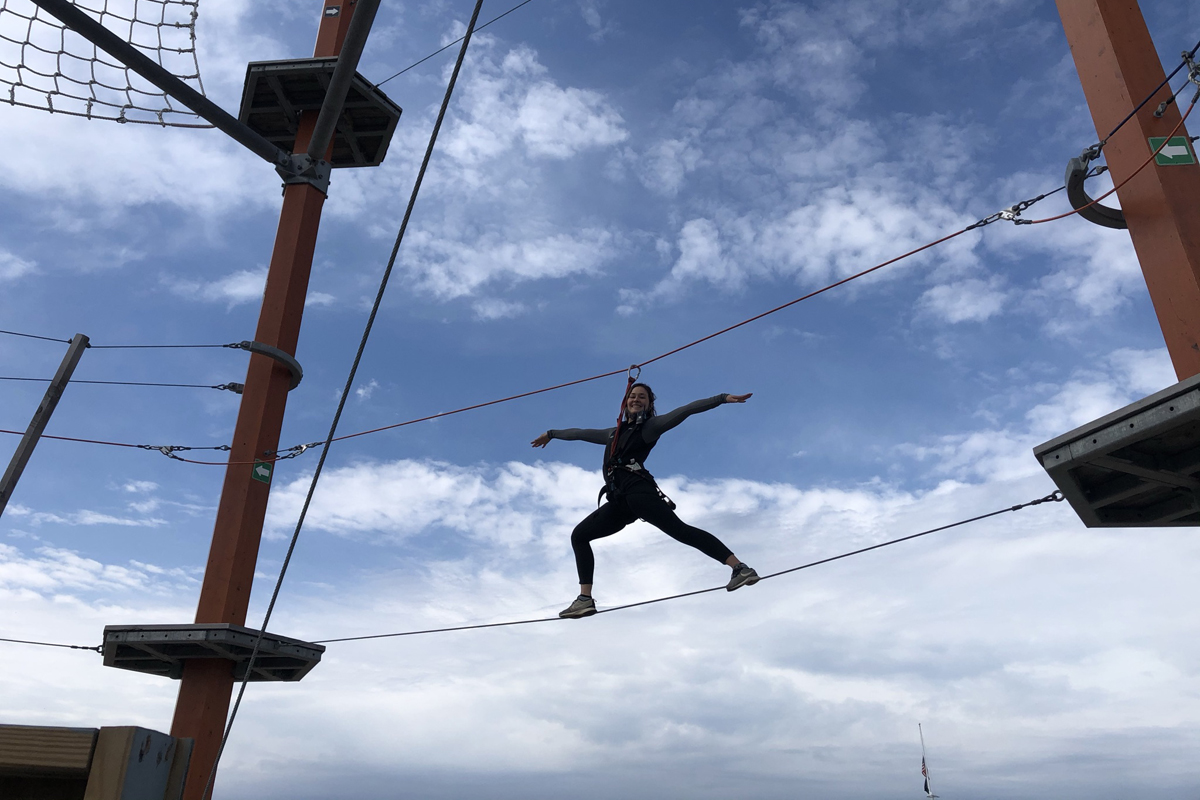 Risk Management Practices
And as for anyone who may be experiencing some degree of trepidation in regards to scaling a tightrope or traversing a rope cargo net, Karp is adamant about the fact that WildPlay puts the safety of their guests first and foremost before anything else.
"Our biggest priority is to make sure that we do everything in our power to keep our customers safe, and to that end WildPlay is actually much safer than many everyday activities that you normally may engage in," he said. "We have an amazing track record. The safety cables that we use to support our customers are capable of suspending a truck, so WildPlay is very, very safe."
Karp extended a heartfelt "thank you" to the attendees of WildPlay Jones Beach for making the park such a huge success – both currently in 2022 and throughout the midst of the pandemic – and encouraged anyone looking to take a walk on the wild side to come on down and check them out.
"It's been a blast to be a part of reopening and reenergizing the community, and to finally get to show everybody what we're about in a bigger way," he said. "Everyone that has come out has been very supportive and super excited to challenge themselves and play with us."
To find out more about WildPlay Jones Beach, please visit 
wildplay.com/jones-beach
. Use the code "LI5OFF" to save $5 off your entire adventure!