When it comes to the incredibly cut-throat business landscape in New York, establishing an eye-catching company logo and translating that into branded apparel can be invaluable when it comes to helping you stand out from the competition. Whether you're embroidering your corporate logo on a polo shirt or hats for employees, or are just in need of printing a few t-shirts for personal use, 
Constantly Create Shop of New Hyde Park, NY
 is the place to go.
Constantly Create Shop is a custom apparel company that serves small businesses, brands, schools and just about any occasion you can think of that requires t-shirts and hats to be made, according to Founder DJ Kinslow.
"We can embellish anything for anyone, whether you just need a few t-shirts printed with your logo or hundreds of shirts and hats for your business…we can do it," he said.
Constantly Create Shop, despite still being a relative newcomer in the industry, already has amassed an impressive array of high-profile clients, including the New York Yankees, Brooklyn Nets, MTA, Starbucks, FDNY, Hip Hop artists, and many others. The runway during New York Fashion Week has also featured a number of trendy shirts fresh off the press from Constantly Create Shop.
In addition to their retail-quality embroidery, Constantly Create Shop specializes in both screen printing and DTG (Direct-To-Garment) printing as well.
"Screen printing is the more familiar t-shirt printing method which is used for bulk orders, whereas DTG is a newer technology that allows you to print with no color limits in low quantities." DJ said. "If you needed to print a photograph on a t-shirt, for example, DTG is the way to go. If your company has a simpler logo with 1-3 colors, screen-printing is the way to go. We offer both, which allows us to not only serve every client no matter how many shirts they need, but also offer them something new with our full-color DTG technology."
DJ noted that all of the production is done and supervised in-house to help maintain quality control. And when it comes to the types of apparel that Constantly Create Shop can embellish, the sky's the limit.
"Our most requested types of items are t-shirts, hats, hoodies, and jackets." he said. "We usually provide the garments for the customer but if they have specific items they want to print or embroider, they have the option to ship them to us or drop them off at our shop."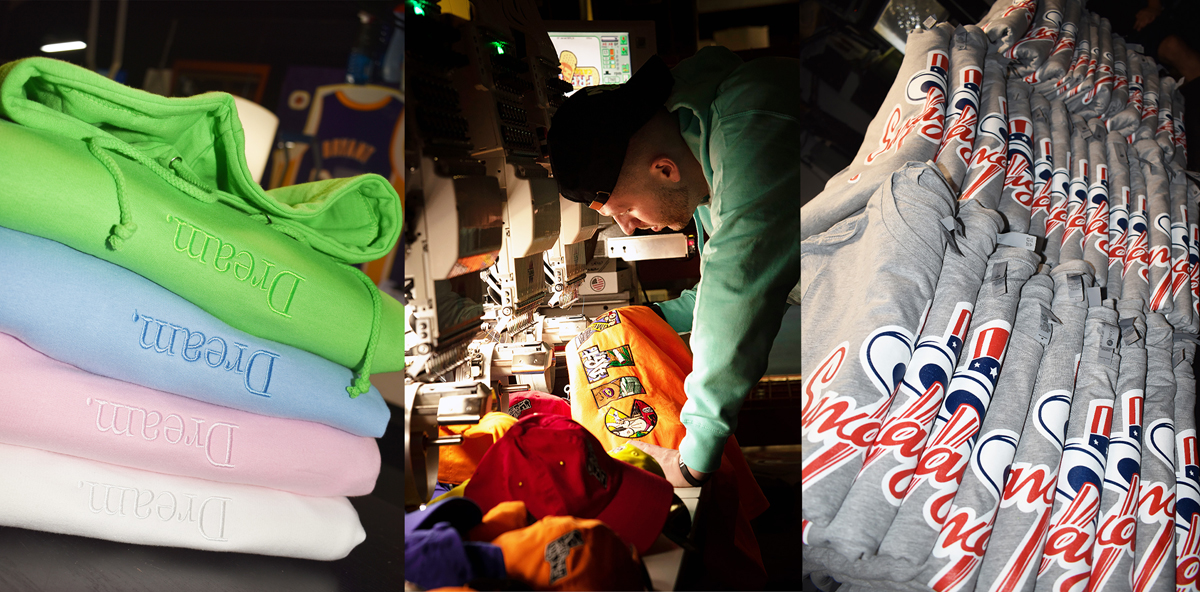 However, if you are looking to have your logo printed on shirts or anything else for business purposes – but haven't created your company logo yet or need it revised – DJ said that Constantly Create Shop can assist you there as well.
"We have a graphic design team that can create your company logo from scratch. It's a personalized service that allows the client to be in direct communication with an assigned designer that will draw their logo" he said. "We're a one-stop shop for any business…we can design their logo and then turn around and print it on t-shirts, hats, whatever they need."
Constantly Create Shop comes from humble beginnings; in 2016, DJ decided to utilize his creative passions and convert a small part of his basement into a makeshift print shop, where he would print his own designs on t-shirts and sell them on eBay.
"I started the business in my laundry room, which was a tiny little 6 ft x 6 ft room. I have a strong passion for sports and art, so I mixed the two and started designing t-shirts and selling them on eBay," he said. "Initially I just started selling them for $11 with free shipping, making no money just to prove the concept, but soon I started selling so many that I knew I was on to something."
It was at that time that DJ came to the realization that he could not only bring his own designs to life, but he can help others print shirts for their companies and brands as well.
"I was doing research on Instagram of custom apparel shop pages, and I couldn't find any, maybe 2 or 3 at most and they never posted anything" he said. "I made the Constantly Create Shop Instagram that night and soon I was designing and printing garments not just for myself, but for other people as well, and shipping orders all over the country."
Fast forward 5 years later the Constantly Create Shop Instagram page now has 138,000 followers and in June 2020, moved into their current 5,000 square-foot New Hyde Park production facility.
"We expanded to the shop we're in now right after the pandemic started…COVID or not, we needed to expand. We didn't have a choice at that point," he said. "The garage was full, the basement was full, I remember times when we would put tarps over boxes of t-shirts in the driveway so they wouldn't get wet in the rain."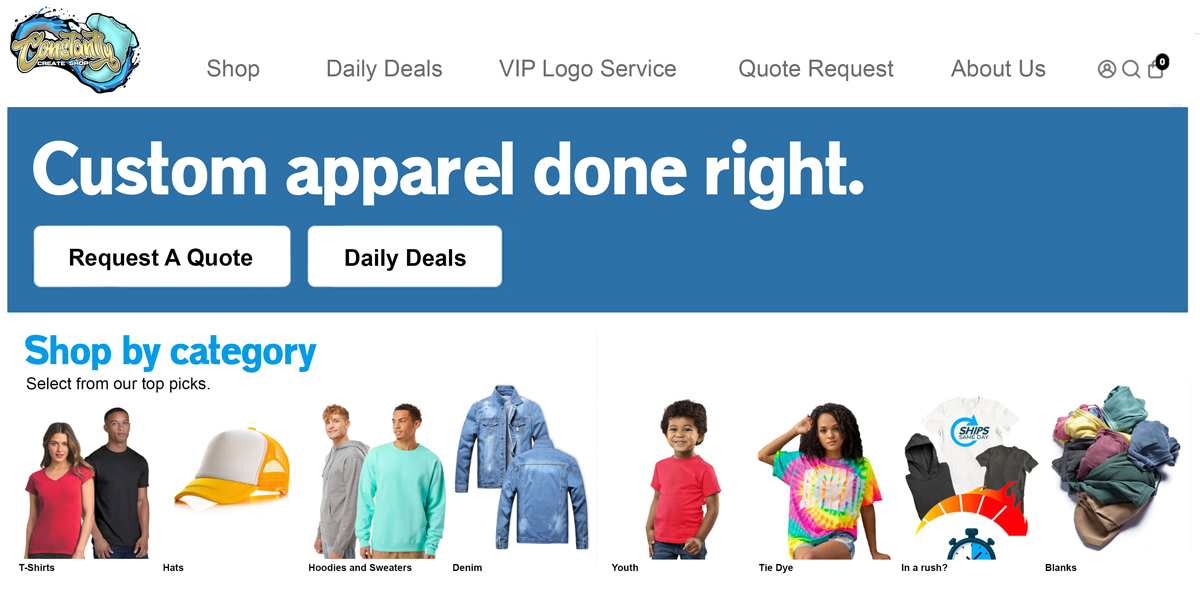 COVID-19 created a huge void in the custom apparel industry, leaving clients with very few options to create apparel.
"The pandemic forced a lot of apparel shops to go out of business," DJ said. "Walk-in traffic was nonexistent due to lockdown measures and the only place customers could shop was online, and by that point we had already established a strong social media community and online presence."
That being said, DJ saw a huge opportunity to capitalize on the number of custom apparel shops that went out of business at the height of COVID, and began putting the word out that Constantly Create Shop was open for business and still taking orders.
"We'd really like to take on a lot of the companies and schools that need apparel made," he said. "The shops that unfortunately closed down, my heart goes out to them, but that helped create more opportunity for us because their clientele is now in need of a place to go. Nobody could have predicted COVID, but it really does show how important it is to have an online presence."
When it comes to the volume of any given order, DJ said that Constantly Create Shop can handle anything that customers throw at them regardless of order size. Average turnaround time is typically two weeks, give or take, depending on quantity and the complexity of the order.
In addition to handling their own order volume, their growing reputation of quality and service lead to a number of other shops actually outsourcing their work to Constantly Create Shop, whether it be an embroidery, screen print or DTG order.
"Having a passionate team and maintaining good relationships has definitely helped grow the business tremendously," he said. "Relationships are more powerful than money."
DJ is also associated with one of the largest global clothing manufacturers, Gildan, serving on the company's Board of Decorators, which is a small handpicked team of the most innovative apparel shop owners in the country. Members of the Board essentially serve as liaisons between Gildan and their clients.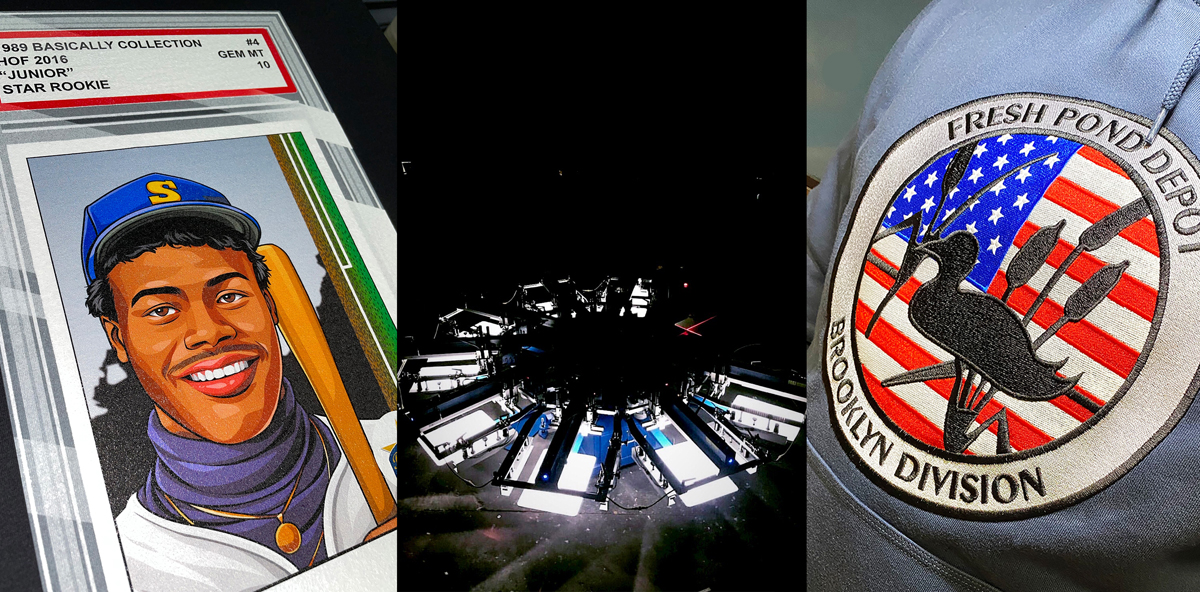 "Serving on the board is something I'm proud of, it shows my attention to detail has been recognized on a much larger scale." DJ said. "My creativity and feedback is shared directly with the manufacturer on what the end user is looking for and how they can innovate and push the industry forward."
However, when reflecting back upon his humble beginnings and then fast-forwarding to where he is today, DJ noted one of the people he can attribute his success to the most is his high school art teacher Mr. Fox, who he said very much nurtured and inspired his passion for art.
"If I walked into a high school and every room was an art class, without question I'd be able to point out which room is Mr. Fox's. He really helped shape and inspire my creative approach," he said. "I told him that if he wasn't my art teacher for 4 years straight, I don't know if Constantly Create Shop would exist, and I really meant that."
At the end of the day, DJ said that it's a surreal feeling to have taken something that he started in his cramped basement and evolve it into a very successful – and still growing – business.
"We have a really passionate team at the shop. Everyone is here because they enjoy the creative hands-on work we do and they care about the finished product we make for our clients. We're a cohesive group and every day is different, no two orders are the same. That's what keeps us all intrigued and at our best."