Moe's Southwestern Grill of Long Island, celebrating the impending end of the long, hard road back from the worst of the COVID-19 pandemic, is celebrating the return to normalcy by welcoming their valued customers back to their physical restaurant locations with a extra-special incentive: the "Golden Burrito Giveaway," slated to run through the end of March.
During the worst part of the pandemic, Moe's Southwestern Grill's business mainly consisted of takeout and home delivery orders while many local residents were quarantined for health and safety reasons. But now that COVID finally appears to be entering its final days, Moe's Long Island co-owner Ryan Monahan is looking to welcome customers back into the store with an exciting new giveaway incentive.
While getting takeout can be fun, few things can match the enjoyment of actually visiting a physical Moe's location; the chain is credited as being the first Mexican-style restaurant to offer the customized line experience to Long Islanders, allowing customers to pick and choose exactly what they want in their meal and watch the employee create it before their very eyes. Unfortunately, that whole experience was lost during the worst of COVID, but now it's back in a very big way.
The Golden Burrito Giveaway comes in the form of a scratch-off ticket that customers receive for free with each purchase; however, unlike most other scratch-off lotteries where you almost always come up short, with the Golden Burrito Giveaway approximately 90 percent of all participants come up winners and receive a prize!
Among the many prizes up for grabs in Moe's Golden Burrito Giveaway include free drinks, food items – including burritos – our famous queso, stack and quesadillas, and much more.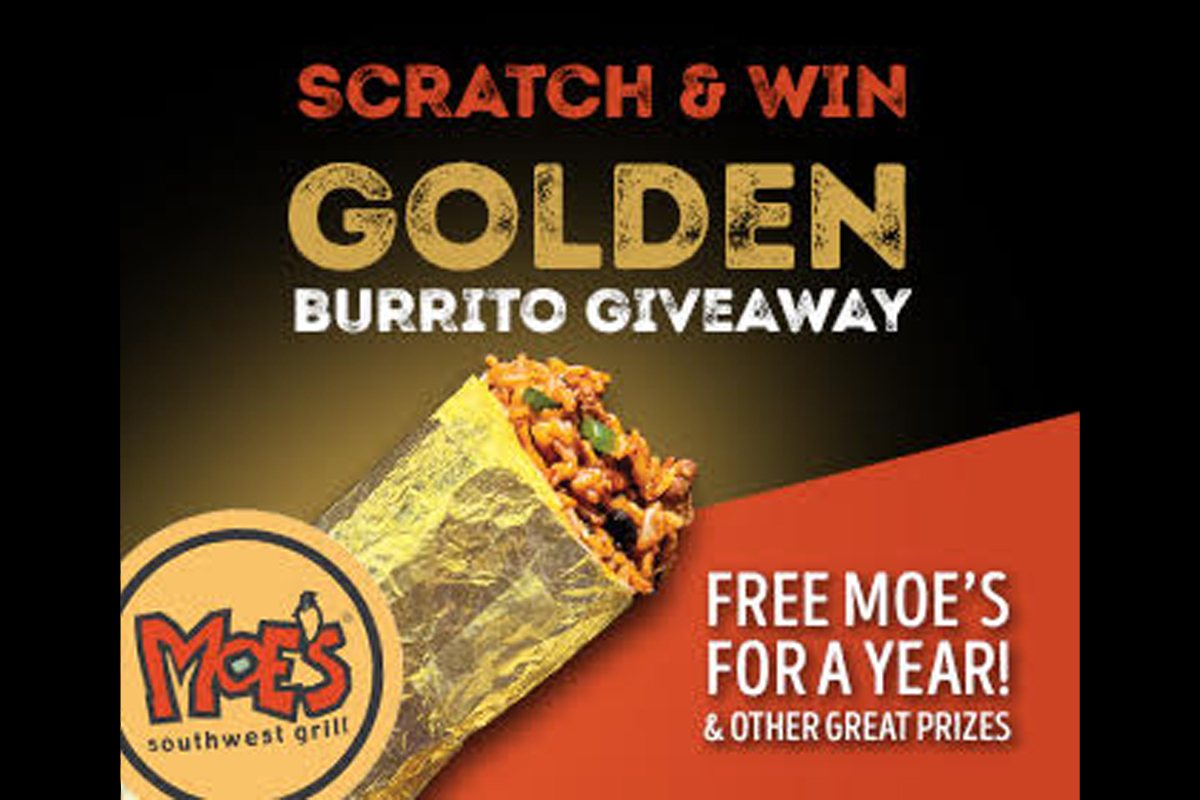 However, the excitement doesn't end there; all participants in the Golden Burrito Giveaway are also entered into a drawing, with the lucky grand prize winner receiving a free whole year of Moe's Southwest Grill food.
The promotion started the first week of March, and runs until the end of the month, so be sure to visit a Moe's Long Island location near you and get in on the action while it lasts!
COVID-19 presented a significant hurdle for many small businesses on Long Island over the past two years, and while Moe's is grateful to have weathered the storm and emerged intact, it unfortunately didn't happen without a few speed bumps. Business overall was down approximately 50 percent during the pandemic and three of the chain's 18 stores were forced to close. However, the remaining 15 are ready and raring to go when it comes to welcoming their customers back, and it's hoped that the Golden Burrito Giveaway will be a huge part of that reemergence.
In addition, the Long Island Moe's locations are currently undergoing various degrees of renovation as well – two have already been completed, with plans to have six done by the end of the year – promising customers a new and fresh experience when they visit to order a delicious burrito or burrito bowl.
Long Island Moe's co-owner Ryan Monahan – a local who grew up in Lynbrook and became a Moe's franchisee in his 20's along with his cousin – said he's grateful to the customers that helped support his establishments during COVID, and he hopes that the Golden Burrito Giveaway will be a great way for him to express his immense appreciation.
"We're trying to do the right thing, and we really want to be involved in the Long Island community," he said. "We really love Long Island, and how we can show that is by serving great local food and giving back however and whenever we can."