Doug Ellin, a Long Island native best known for creating the HBO series Entourage, will be presenting a live version of 
his hit podcast "Victory"
 – also featuring Entourage cast-mates Kevin Dillon and Kevin Connolly – 
on November 20 at Huntington's Paramount
, in what is only the group's second-ever show performed in front of an audience.
Doug was originally born in Brooklyn but was raised in Merrick, going on to graduate from John F. Kennedy High School, attend college at Louisiana's Tulane University, and eventually pursue a successful career in Hollywood as a screenwriter and director.
However, it was his upbringing on Long Island that shaped who he is today, Doug said, and he wouldn't trade it for anything.
"There's absolutely nothing about my childhood I would change, and everybody that I talk to that grew up on Long Island has the same exact feeling," he said. "At the show we're doing at The Paramount there will probably be 40 or 50 people that I've known since I was 5 or 6 years old. Long Island is a very close-knit place with a lot of good people and a lot of character."
Doug's successful "Victory" podcast has only been is the works for the past year-and-a half but has already attracted a huge following, currently boasting eight million downloads and counting thus far.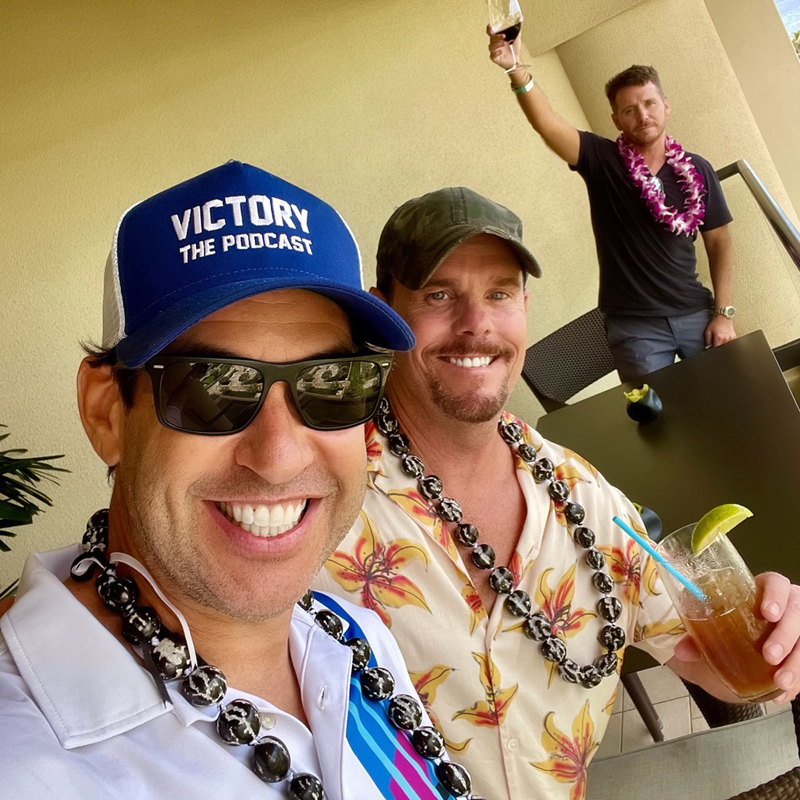 Initially unaware of the increasing popularity of the podcasting format, Doug said that he was enticed to give it a try due to his career being sidetracked – as many careers were – due to the ongoing COVID-19 pandemic.
"Kevin Connolly is also from Long Island, and he started a podcast company a few years ago," he said. "When the pandemic hit, I was about to leave for London to do a TV show and the whole world shut down. So Kevin said, 'why don't we do a podcast?' I had never done or even thought about that, and we just started doing it. We had such a good time and people started listening, and that was pretty much the impetus for it."
"At this point it's been growing really fast, and it's just a fun thing you can do as a creative outlet that doesn't really cost any money," Doug added. "And it gets us back together to not just talk about Entourage, but a whole bunch of other stuff as well. It's been a lot of fun."
Doug noted the "Victory" podcast doesn't really have a set format for their episodes; instead, the long-time friends just talk about whatever comes to mind. In addition, high-profile guests are also a regular occurrence.
"We do a lot guests, including NBA star Julius Randle, billionaire entrepreneur Mark Cuban, and former stockbroker Jordan Belfort," he said. "We go inside Entourage, in addition to a bunch of other things, whether it's sports or life or our careers. It's just a bunch of people having a good time with their friends."
The decision to take the podcast on the road came when the effects of the COVID-19 pandemic had finally started to tone down. Doug had received a call from the producer of comedian Adam Carolla, who made the suggestion that the group should give recording at live venues a try; their first attempt, held this past August at The Improv in Brea, California, was a huge success.
"We'd never thought about doing live shows before, but we've decided to try it. And we had such a good time that when another agent called and offered to get us a bigger venue, we went for it," he said. "I was worried at first, because it's one thing to get people to listen to a podcast, but it's another thing to get people out to a live show. But we had such a good time at the show in California and the crowd seemed to enjoy it, so we felt we should try Long Island for our second live show."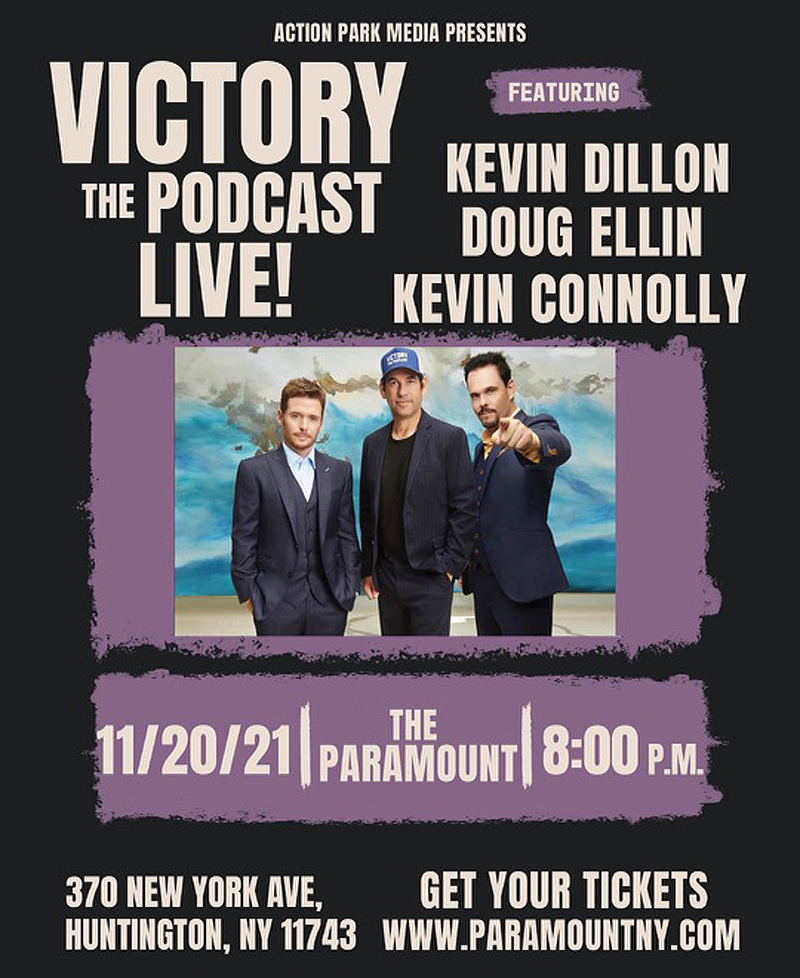 Doug said that he still drops by Long Island quite often; in fact, he said, he still regularly visits his childhood home in Merrick, which now has a new owner who is more than happy to accommodate him.
"I still visit my old house whenever I'm in town, and the guy that lives there now, we've become good friends," he said. "I bring my kids there, and whenever I come back to New York I like to go back to Merrick, have a meal, and drive by my house because I have a lot of amazing memories from having grown up there. I was literally my house about six weeks ago."
To this day, Doug said that he has unforgettable memories of his time growing up on Long Island.
"My childhood growing up on Long Island was amazing," he said. "I probably had 20 kids on my block that I could play sports with every single day. I always wanted my kids out in Los Angeles to have the same experience I did, but it certainly doesn't exist there these days. In Beverly Hills, you don't see kids playing hockey and basketball on the street these days."
Doug noted that there will be no special guests for the November 20 show at The Paramount; instead, it will just be him, Kevin Dillon and Kevin Connolly talking about their lives, showing off multimedia presentations, and establishing a rapport with the audience.
"We're going to talk about all of our experiences, from Long Island to Hollywood and everything in between," Doug said.
On the occasions that he returns to his hometown, Doug said that there's always a few businesses that he always makes a point to visit; among them is Long Island-based bagel café chain Bagel Boss, since he says that nothing on Earth compares to an honest-to-goodness Long Island bagel .
"I've met Alex, the owner of Bagel Boss, through Instagram and we started talking. He sent me some New York Islander-colored bagels, and we've stayed in touch ever since," he said. "Now I order bagels from him regularly, and whenever I'm on Long Island I always make a point of stopping in. That's a bagel I will definitely be getting whenever I visit home."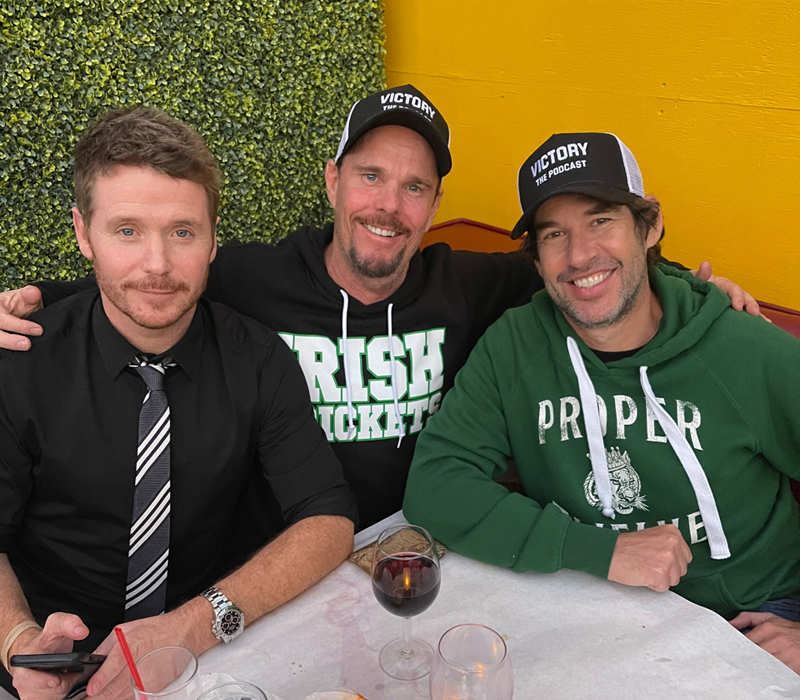 As for his career in Hollywood, Doug said that he has a few different television projects in the works, but at the moment he's concentrating the most on podcasting, which is something he said he's really enjoying.
"I'm currently working on a Premier League football show, as well as a show with the writer and creator of the show Unreal," he said. "So I have a couple of things going on, but I'm really focused on the podcast stuff right now, and I can't wait for me and the guys to get on the stage at The Paramount."