Discover Long Island unveiled a new "BeSAFE Pledge" providing clear and communicated guidelines for both businesses and consumers in preparation for Phase Two re-openings across the Long Island region.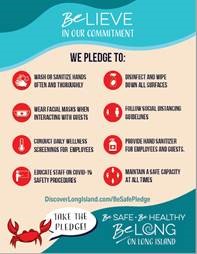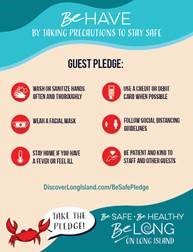 The official destination marketing and management organization for the region enlists businesses to "Take the Pledge" as they begin to re-open, showcasing the "BeSafe Pledge" collateral visibly for consumers and businesses to view and abide. The new campaign includes a pledge certificate, BeSAFE Guidelines, BeLIEVE in our Commitment business safety protocol and BeHAVE guest pledge.
Businesses that take the BeSAFE pledge on DiscoverLongIsland.com/BeSafePledge will have access to free downloadable signage that can be displayed to allow customers to easily recognize those businesses who are volunteering and pledging to follow safety protocols. In addition, there is free signage that allows businesses to clearly communicate the expectations of customers to ensure the safety for all patrons and employees.
"As Long Island begins to take steps toward recovery it is our responsibility to welcome back businesses and consumers with renewed gratitude for the quality of life assets in our community and instilled confidence that everyone is prioritizing safety for our employees and residents," said Kristen Jarnagin, President & CEO of Discover Long Island. "Now more than ever our local downtowns, attractions and small businesses need our support, so we created this free program and engaging signage to provide clear and consistent communication that showcases safety and encourages commerce."
A list of participating businesses will be prominently displayed with links, videos and an interactive map on Discover Long Island's new "Welcome Back" page: DiscoverLongIsland.com/welcomeback.
The "BeSAFE Pledge" mirrors the organization's BeLONG on Long Island initiative that was launched in 2019, redefining the Long Island brand and reinvigorating emotional connections to the region.  Discover Long Island has pivoted its efforts during this time to best serve all industry businesses as a vital resource with new offerings including a free Community Partner Program and webinars with congressional members and small business experts to assist in navigating everything from financial relief packages to legal advice. In addition, the organization continues to play an integral role amongst the discussion of recovery for the region, working closely with both Nassau and Suffolk Counties to lead task forces and tourism sub-committees to advocate and orchestrate conversations with the region's leaders in restaurants, attractions, hotels and vineyards to reimagine a safe way forward.
To take the "BeSAFE Pledge," please visit DiscoverLongIsland.com/BeSafePledge. For additional information on virtual events, beach openings and more, please visit discoverlongisland.com.
ABOUT DISCOVER LONG ISLAND:
Discover Long Island is the region's official destination marketing and management organization charged with furthering the $6.1 billion tourism economy. The organization contributes to the economic development and quality of life on Long Island by promoting the region as a world-class destination for visitors, meetings and conventions, trade shows, sporting events and related activities. For more information, please call 631-951-3900 or visit DiscoverLongIsland.com.